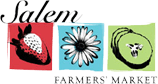 Solicitation / Marketing Policy
Businesses or organizations interested in distributing information or free items at the Salem Farmers' Market must first receive approval from the market organizer. All those interested should contact the market organizer at sfm@salemmainstreets.org or (978)744-0004 x15 in advance of the market they hope to attend. All businesses or organizations accepted to participate in the market will be notified and assigned a specific area at the market as well as a specific date and time. No unauthorized solicitation or posting of signs will be permitted. Should additional permitting or city approval (e.g. health department approval) be necessary the soliciting group is responsible for securing this in advance of the market.
All files open a PDF file.
The Salem Farmers' Market is currently full for the season. However, we are still accepting vendor applications for our wait list. Please read our market guidelines and procedures and if you are interested in joining our market fill out the appropriate application.
Salem Main Streets © 2010 All Rights Reserved. Salem Main Streets Initiative funded in part by the City of Salem, Kimberley Driscoll, Mayor and the U.S. Dept. of Housing and Urban Development. Hosted by Net Atlantic Hosting. Design by brntorange and Beth Paquin.